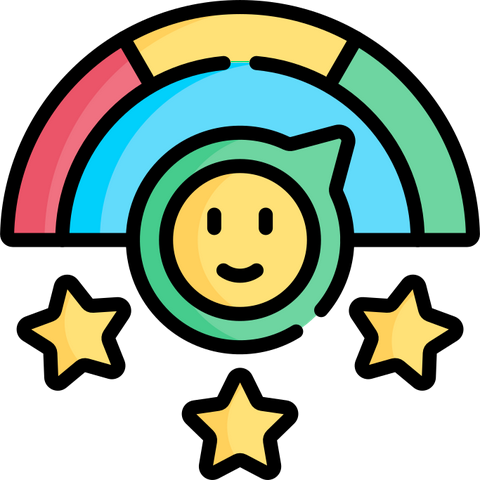 Customer Satisfaction
Elevate Your Customer Feedback Experience!

Elevate Your Customer Feedback Experience with LiveChat's Customer Satisfaction App!
In today's world, delivering an exceptional customer experience isn't just a goal - it's a necessity. The key to building customer loyalty, growth, and success lies in understanding and acting upon the feedback your customers provide. That's where the Customer Satisfaction app comes in.
With this app, you can check your customer satisfaction level and use this knowledge to supercharge your business's success.
Based on the NPS score, the Customer Satisfaction app clearly shows the number of promoters, passives, and detractors of your brand, providing essential insights that empower you to truly understand your customers, enhance their experiences, and drive growth like never before.
All data is shown as clear graphs that make them easy to understand and present at all kinds of business meetings. Also, you can use several filters to compare this data over time, see the relationship between customer satisfaction and agents or groups serving them, etc. That way, you'll be able to spot trends that are going on at your company faster and, therefore, more effectively plan your next move.
Don't wait up - start your journey toward a customer-centric future today.
Key Features
Real-time Feedback Collection
Say goodbye to delayed insights: The Customer Satisfaction app enables you to capture customer feedback in real time when their experience is fresh in their minds. Whether it's after a purchase, support interaction, or any other touchpoint, you'll always stay connected to your customers' thoughts.
Seamless Omnichannel Surveys
Reach your customers where they are. We offer omnichannel survey distribution, allowing you to engage customers through the website, email, WhatsApp, Messenger, or any channel you connected. This flexibility ensures you're meeting your customers on their preferred platforms.
Team Accountability
Oveserve your customer satisfaction rating for the entire teams or individual Agents. Empower your employees to take ownership of customer satisfaction, resolving issues promptly and showcasing your commitment to excellence.
Chatbot Integrations
Seamlessly integrate the Customer Satisfaction app with multiple Chatbot stories to gather NPS feedback and see how your bots perform.
Benefits
Early Warning System
Identify dissatisfied customers early and address their concerns before they escalate, mitigating negative feedback and potential churn.
Customer-Centric Decision Making
Look at your business from the customer-centric perspective and make effective decisions based on information about areas where your customers are most satisfied or dissatisfied.
Long-term Business Growth
Create the foundation for sustained growth and prosperity by consistently meeting and exceeding customer expectations.
Operational Excellence
Pinpoint operational bottlenecks and refine processes to optimize customer interactions and streamline business operations.
Data-Driven Decisions
Base your strategies on tangible insights and make decisions that resonate with your customers' actual needs and preferences.
Enhanced Customer Loyalty
Proactively address concerns and acknowledge positive experiences to foster loyal customer relationships that stand the test of time.
Ratings & Reviews
How would you rate this app?
Tutorial & Support
To get help and support
contact LiveChat Integrations
. You can also suggest improvements or request new features in the upcoming versions of Customer Satisfaction.
The developer LiveChat Integrations indicated that the app's privacy practices may include handling of user data. You can learn more in the app's
Privacy Policy
.